Take the bus to/from Aarhus Airport
925x Airport Express
There is a bus connection between Aarhus city and Aarhus Airport in direct connection to scheduled and charter flights. The departure times of the buses are adapted to the flights, so keep an eye out for any delays and cancellations on this page.
The journey from Aarhus Central Station takes approximately 45-50 minutes, and passengers are picked up at selected stops along the way.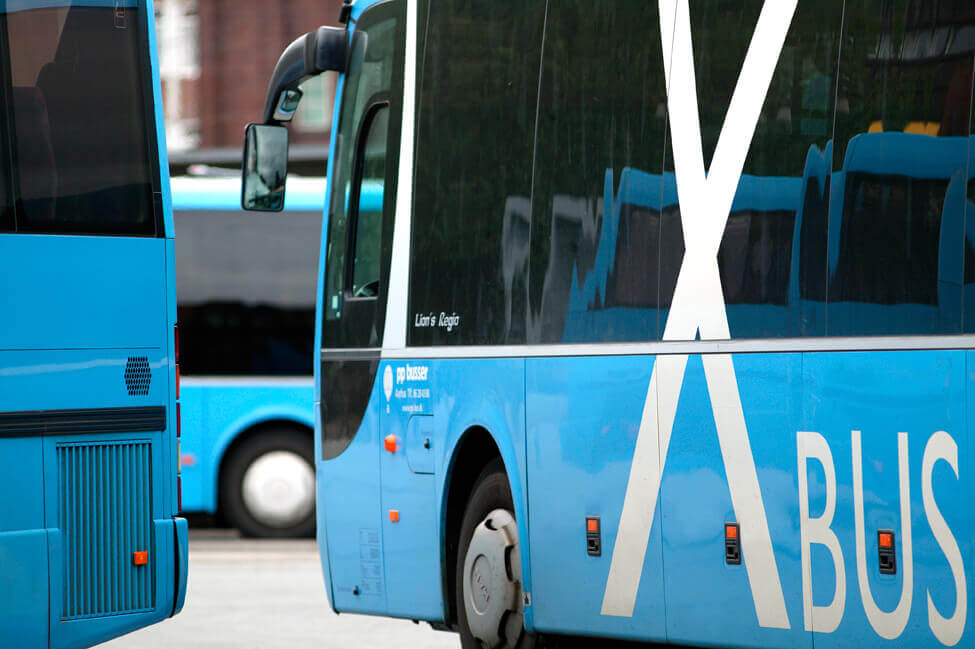 Bus schedule adapted to flight times
Route 925x has the special service for passengers that it does not have a fixed timetable, but instead follows the air traffic. This means, for example, that you do not have to worry about whether there is a bus when you land – the bus is waiting for the plane!
Service
We wish you a good trip with the Airport Bus. In the bus you can freely use the bus's WiFi. In addition, there is free coffee on board the bus.
Payment
You can pay with the following payment cards if your card has a chip: Dankort, Visa, Mastercard, Visa Electron, V Pay, JCB, China Union Pay and American Express.
You can pay with the Midttrafik app, where you have to select the ticket "Aarhus Airport" under the menu item "Buy other tickets".
You can use the travel card in the airport bus. Remember to check out when the bus arrives at Aarhus Airport.
You can buy a print-yourself ticket
You can use your commuter card if the card is valid on the route.
In addition to Danish kroner, you can pay with the following currencies (banknotes): EUR, £, US $, NOK., SEK. and CHF. The bus company Keolis sets the exchange rate.
Youth card for Midttrafik Øst is valid as a full payment in the Airport Bus. Youth cards for other transport companies and DSB give the right to purchase a child ticket.
Flex- and intercity bus 212 for Randers
From Aarhus Airport there is a bus connection to Randers with Flexbus 312 and then change in Ryomgård to intercity bus 212. Intercity bus 212 departs at scheduled times and is therefore independent of the air traffic.
Flexbus 312 to Ebeltoft
To and from Aarhus Airport there is a bus connection to Ebeltoft with Flexbus 312
Please note that the flexbus must be booked at least 1 hour before departure
For questions or further information, please contact the Bus Information on tel. (+45) 70 210 230.
Taxi service
It is always possible to get a taxi at Aarhus Airport. The taxis have a waiting area just outside the arrival hall.
* Prices are estimates and may vary depending on fares and changes in traffic.
Links for booking a taxi
Limousineservice
Links f0r booking a limousine