Parking at Aarhus Airport
Digital parking
Aarhus Airport has a modernized technical parking system, where you do not have to waste any time, so the experience is as fast, easy and smooth as possible for you as a traveler. When you drive in or out of the airport, your license plate is automatically scanned. Therefore, you do not encounter the traditional parking barriers, and when there are no barriers, there is virtually no or very little probability of queuing.
Do you have questions about parking at Aarhus Airport?
Then call Aarhus Airport's parking hotline on tel. +45 8775 7474.
General information
We are renovating the airport car parks and will expand to more than 2000 parking spaces. Therefore, all parking is currently directed to P1 and P3. The parking area is illuminated and under video surveillance, and luggage trolleys are available in several locations.
Here you will find important information about parking during your visit to Aarhus Airport.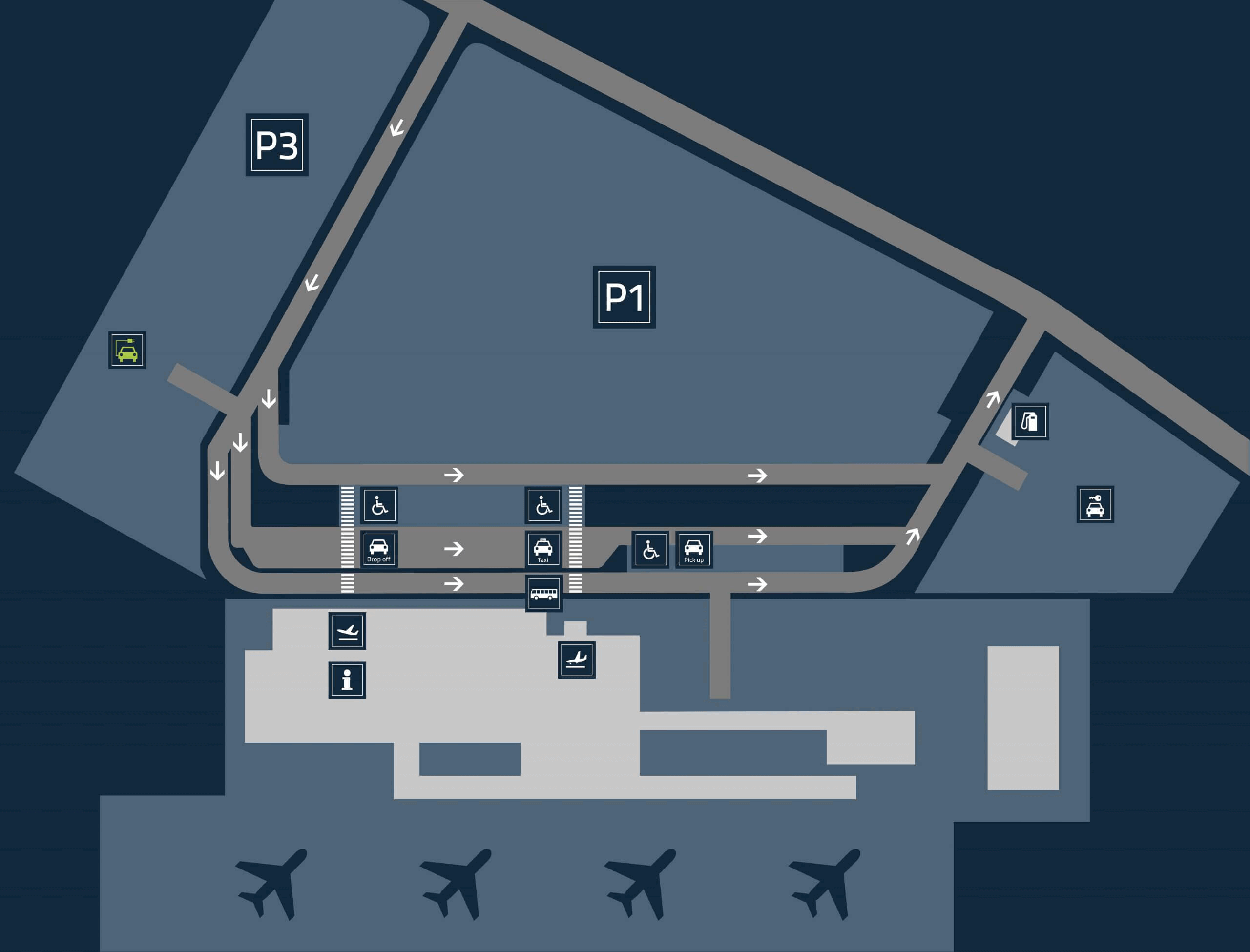 Rules for the parking area
All parking areas are fenced
The areas are regularly patrolled at night
Parking is done in all respects at your own risk
Payment for parking must be made within 48 hours of departure. If this does not happen, a fee of
DKK 300 will be charged by the parking company.
Parking for motorcycles and scooters is only allowed on P3
Cars parked on driveways, footpaths, discounts, etc. will be moved at the owner's expense
Chargers for electric cars
At Aarhus Airport, you can charge your electric car via one of the four charging stations set up in the airport's car park P3, which is located to the right after the driveway to the airport.
The charging stations are set up by E.ON.
Help regarding. parking within Aarhus Airport's opening hours
Contact Passenger Service on tel: +45 8775 7000
Help regarding. parking outside Aarhus Airport's opening hours
Contact the airport security guard on tel: +45 8775 7082.